What you should know about the COVID-19 variants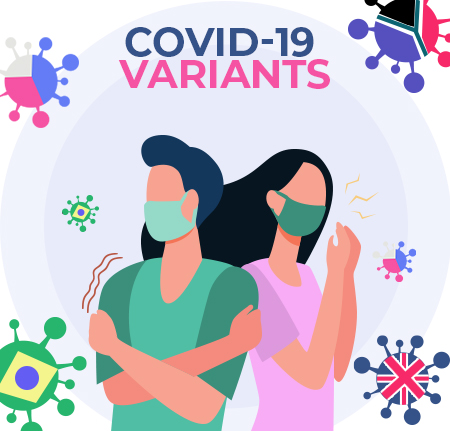 It has been a little over a year since we all had to enter lockdown mode here in the Philippines and now, with the quarantine rules coming up, the virus has mutated into new variants that have been found popping up in the Philippines.
Here's what you need to know about these new COVID-19 variants:
December 14, 2020, the first variant, the UK Variant (B.1.1.7), was discovered in Kent.
First detected in the back in December 2020. Noted to spread faster than other variants and maybe deadlier than the other variants (pending further studies). One of the notable mutations is in the variant's spike protein which can aid it in invading our cells. This is what contributes to this strain's ability to spread quickly.
December 18, 2020 South Africa reports the South African Variant (B.1.351), believed to have started in Nelson Mandela Bay
Shares some mutations with the UK Variant. More contagious than the original COVID-19 strain due to the mutated spike proteins. The Pfizer vaccine is noted to be less effective against this variant. This could be because of another mutation that helps the virus evade the human immune system.
January 6, 2021, the Brazil Variant (B.1) was discovered in Japan from 4 people who traveled in Brazil.
Shares some mutations with the South African variant such as the invasiveness and ability to evade the immune system. This variant is noted to be 1.4 to 2.2 times more transmissible than the UK variant. Due to the mutation being harder to recognize by the immune system, this variant can also make individuals more susceptible to reinfection.
February 18, 2021, the Department of Health reports the detection of the virus in Central Visayas, leading to the reporting of the Philippine Variant (P.3)
Much like the others, this variant shares the spike protein mutation that increases its transmissibility. This variant also shares mutations with the Japanese variant in terms of antibody resistance. Health Secretary Duque has said that it still needs more research hence it is not yet a variant of concern.
As always, we encourage everyone to follow health and safety protocols in order to keep the spread at bay. Let's all work together to show this virus that it can't win.
As an added precaution, why not get COCOGEN COVID-19 Assist+ Recognized as the Most Innovative New Non-Life Insurance Product of 2020 by the International Finance Magazine, its benefits include cash assistance for people who are confined due to COVID-19, cash assistance for death due to the virus or other causes, as well as accidental death and disablement.
Sources:
https://www.cdc.gov/coronavirus/2019-ncov/transmission/variant.html
https://www.forbes.com/sites/williamhaseltine/2021/03/18/third-generation-covid-19-variant-described-in-the-philippines/?sh=2f5708fb73ca